Just before Christmas my daughter asked "Can we try being vegans for January?"  I was quick to say no.  You see, I know that a vegan diet can be very balanced and healthy but I also know about how hard it is with protein combining (a way to ensure all proteins are consumed), converting essential fats effectively (it's hard to convert fats if you don't eat fish!)  and the need for supplements to avoid B12 deficiencies.
"Can we try being vegetarians for January instead then?" she continued.  My daughter isn't the biggest fan of meat and in recent months has been having less and less, opting instead for fish or vegetarian based meals…….so I reluctantly agreed.  My other daughter said she'd like to try it too which definitely made life easier…..so, just the hubby to persuade…………..and unfortunately that didn't happen; although there was an acceptance to eat more vegetarian meals and that; at least, felt like a big win.
Being a nutritional therapist, I am a big fan of home cooked nutrient rich foods and I steer away from anything too processed so this was going to be a challenge to ensure a good mix of protein, carbs, essentials fats and not have to spend hours on end in the kitchen!
IT'S ALL IN THE PLANNING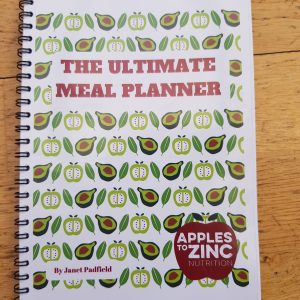 This is where my ultimate food planner really helped.  I was able to sit down at the start of each week, plan out all the meals and create a shopping list.  I really need this kind of organisation otherwise meal times become a dread and I spend my days wondering what on earth to cook and often popping in and out of shops to top up.  Planning was definitely my saviour this month!  Click here is you fancy purchasing one
Breakfasts were super easy – meat is never a big feature there so that felt like a simple win.  Packed lunches were a little more challenging.  Typically, neither of my children have ever been fans of sandwiches so it wasn't a case of giving cheese or egg sandwiches and sending them off to school.  Instead I really had to try to be creative to make sure that it was filling but also quick for me to pull together.
Dinner was by far the hardest.  As a meat eater it was often easy to roast lots of veg and add a piece of fish or meat to it.  I loved to pop meat and veg into the slow cooker, ignore it and know that I'd come home to an easy and healthy hot meal.  Being a vegetarian made that all a little bit harder for me.
I'm not expecting sympathy – I agreed to this and I know many people have been vegetarians for years and my month is pathetic in comparison.  BUT, if I tell you my whole family vegetarian meals couldn't contain rice, quinoa, onion, courgette, aubergine or mushrooms you start to see that it is more challenging.  When it was just the 3 of us being veggie then we could include all but the mushrooms, so on occasion it was simpler.
THE NEED FOR BALANCE
I'm a big fan of the healthy food plate.  It ensures that there is the right mix of protein (for growth and repair), complex carb (for energy) and fibre (for nutrients and a healthy bowel).  And then you add some essential fats.  Here it is:
On a vegetarian plan it meant these were my options:
Protein: Eggs, cheese, yoghurt, beans, pulses, nuts, seeds, quinoa
Complex carbs – Bread, pasta, rice, oats, root vegetables
Fibre – All other fruits and vegetables
Essential Fats – Olive oil, nuts, seeds, avocado, chia seeds
WHAT WE ACTUALLY ATE!
So, what did we eat?  Well I certainly did try out A LOT of new recipes and not all were a hit but certainly some will now feature more regularly in our diet:
Black bean & Sweet Potato Hash with Egg and Parmesan
Falafel Scotch Eggs, Sweet Potato Wedges and Veg (a killer to make but SO worth it!)
Vegetarian Lasagne
Vegetarian Chili
Vegan Fajitas (but then I had to add cheese and sour cream!)
Cheese & Tomato Quiche (and leftovers helped at lunchtime)
Pea & Asparagus Risotto
Bean & Feta Burgers with Homemade Wedges
Sweet Potato & Cashew Curry
Coconut, Lentil & Butternut Curry
Pasta with Spicy Tomato & Lentil Sauce
Homemade Margherita Pizza
Jamaican Corn Stew (packed with yellow split peas)
Spinach & Ricotta Pasties (I even made the wholemeal pastry!)
And so within the month there was just one shop bought convenience food……..a cheese and vegetable pie.  But there was no Quorn or other heavily processed meat alternative.  It was 99% real wholesome ingredients
WHAT I'VE LEARNT
I've had a lot of lessons throughout the month but my top 7 are probably these:
I've learnt that beans and pulses have to be eaten very frequently to help with the protein unless you want to look like a cheese monster or consume 50 eggs a week.
I've learnt that vegetarian food does take longer to prepare because of all the chopping and layering of flavours
I've learnt that, whilst vegetarian food is lovely, I am a meat eater and I did really miss it – especially fish!
I don't fill as full on vegetarian foods – despite the protein with each meal it just doesn't feel as filling
The weekly food shop is noticeably cheaper!
I have actually enjoyed vegetarian foods and didn't miss meat as much as I thought
I've found some great new recipes that we all love
WHAT'S NEXT
It's the 1st February today and fish is on the menu tonight!  I've been hankering after salmon so much and I am really looking forward to it.
Daughter #1 loved the experience, daughter #2 has really missed sausages.  Even husband has enjoyed a lot of the meals and hasn't moaned about the "lack of meat" like I thought he would.
As a family we will definitely have more vegetarian meals.  Previously we had at least one but I think that needs to be more like 3 each week and then the rest mostly fish but a few meat based meals.  My daughter has agreed to be mainly vegetarian but will include fish so that I know she is getting better levels of essential fats (key at any age but especially as a hormonal teen) and plenty of B12 (the nutrient most likely to lack in a vegetarian diet as its main source is meat and fish).
It's been a great monthly challenge and I would urge everyone to give it a try!
Janet x