Pancake Day – there really is no avoiding it when you have children….or are a big kid yourself!
Typically, a pancake isn't a "bad" food – it's just flour, milk and eggs.  The issues can begin with the packet mixes, the frying, the toppings and the quantity.
PACKET MIXES
It can seem the easy option to grab a packet mix for the batter from the shelves of your local supermarket and just add water, or milk.  But be careful of these packets as they often had added sugar and salt and preservatives that really aren't needed.  Take a look at these ones:
Tesco Pancake Shake Mix – 0.5 teaspoons of sugar per pancake
Asda Pancake Shake Mix – 0.75 teaspoons of sugar per pancake
Sainsbury's Pancake Shake Mix – 0.75 teaspoons of sugar per pancake
McDougalls Classic Pancake mix – 0.25 teaspoons of sugar per pancake
Aunt Bessie's American style Pancake Mix – 0.5 teaspoons of sugar per pancake
If you make it yourself there is no extra sugar which does help soften the overall load and it is very quick and easy to do yourself.  A basic recipe from the BBC GoodFood website simple has 100g plain flour, 2 large eggs and 300ml milk.  It really doesn't get more simple than that!
QUANTITY
According to Statistics View on average we eat just 2 per person……..that seems low in my experience although the current Guinness World Record for a man is 72 (48 for a woman) in one sitting…Wow – that is some dedication to the pancake!
For children I really do recommend no more than 1 or 2 pancakes.  Best eaten after a meal so that they are quite full anyway and less likely to demand more.  It's an easy trick to help moderate the amount they are eating especially if it is billed as their pudding and nothing else.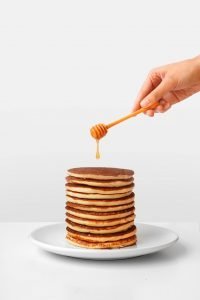 TOPPINGS
So finally, onto the toppings.  According to an Uber Eat survey released this week, the UK's favourite toppings are:
Strawberries & Cream
Banana
Nutella
Belgian Chocolate
Oreo
Maple Syrup
Served with Vanilla Ice Cream
Icing Sugar
Mixed Berry
Caramel
You'll notice a few things about this list – firstly there is no lemon and sugar (clearly way too retro for 2019!!) but also that every one of the top 10 is sweet.  Apparently over three quarters of all pancakes consumed on pancake day will be sweet rather than savoury.
Toppings don't all need to be squirty cream and sugar and they don't have to be overloaded either.  Try to focus mostly on fruit and if your child will eat a natural yoghurt or a high protein and naturally low sugar flavoured yoghurt (like the Skyr brand) then that is better than squirty cream or ice cream.
At the end of the day, enjoy the pancakes but look at minimising the damage. If you know your child really will want a chocolate spread then ensure that what they eat over the rest of the day is very wholesome and nutrient rich and aim to persuade them to have fruit with it too and no more than 2.
HEALTHY ALTERNATIVES PLUS ALLERGY/ETHICAL CONSIDERATIONS
Not everyone can enjoy pancakes.  There are many people who can't tolerate wheat, dairy or eggs or are vegan and the ingredients aren't suitable.  But there are options.  These two healthier alternative pancake recipes are suitable to those with allergies and the apple pancake for a vegan diet:
Banana & Egg Pancakes
Mash the banana and mix the egg with it
Heat a pan, melt a little coconut oil and gentle cook the pancake, turning after a few minutes.
Serve with a dollop of natural yoghurt, berries and a drizzle of maple syrup
Apple & Banana Oat Pancakes
1 teacup of oats (about 80g)- use gluten-free oats if you are intolerant
1 grated apple
½ a teacup of nuts (about 50g) – pecans or almonds (for kids use another ½ cup of oats)
1 cup or about 150ml of milk of your choice (I use unsweetened almond)
1 medium banana
coconut oil or butter, for frying
Blitz the oats in a blender until they are a flour/powder
Add the grated apple, banana and milk to the oats and blend
Heat a pan, melt a little coconut oil and gentle cook the pancake, turning after a few minutes.
Top with grated apple, natural yoghurt and maple syrup
Recipe from Anna Jones's A Modern Way to Cook